The quality inspection of security mesh
Editor:MAISHI wire mesh

After weaving, we need to check the quality of the security mesh.

Please kindly check the four quality inspection methods of security mesh as below:
1. The surface flatness of the mesh: we can check the mesh surface is flat or not by our eyes directly. Good quality security mesh has very flat surface. If it is not, the security mesh is not qualified.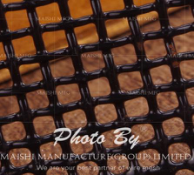 2. Color: Good quality security mesh was coated the powder outside, then high temperature baking varnish, it has bright surface and long life time. The surface of unqualified security mesh turns dark.
3. Wire diameter:The surface coating should be removed to test whether it is as required.
4. Material: There are stainless steel 304, 316, high carbon steel, low carbon steel, hot galvanized, etc material. Good security mesh was woven by 316 stainless steel, it can be tested by stainless steel detection solution.